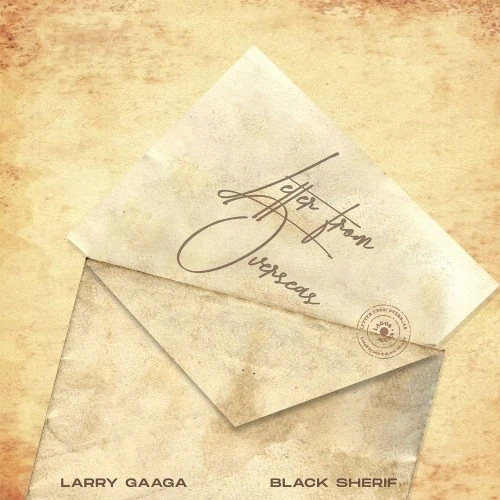 A new single by Gaaga Muzik featuring Black Sherif LETTER FROM OVERSEAS, has been released by Ziiki Media.
For his final single of the year, music mogul Larry Gaaga links up with Ghanaian rapper Black Sherif. The 2022 songs "Monica" and "Blessings" by Gaaga are followed by "Letter From Overseas," which was produced by MarvioMusic.
The Ajebo Hustlers were featured on MONICA by Larry Gaag, while Jesse Jagz and Tega Star were joined on BLESSINGS. A must-have is his third single, "Letter From Overseas," which features Black Sherif.
Blacko created a masterpiece and sent a unique message with the way he combined Ghanaian Highlife with Reggae, Hip Hop, and other sounds.
LYRICS
Marvioo
Gaaga Muzik
Larry Gaaga!
All the days of my life I've been running
I came from a place where dem man don't do stunting oh
Everybody start doing something
I had no option but grind, I was grinding
As I Dey talk I am far away
Far away chasing all my goals
Girl I dey shout no be soft play eh
Cool life, better life that is all I want
I'm not asking for too much oh
If it's too much you should let me know
I'm cool what ever I swear my bro
As streets one man from the zongo yo
The fam part from my life isn't object
When the time surly comes you go know
But for now I am outside with family
Twenty four seven (24/7) manshe ruuu
This my letter from overseas
I am doing good
But 'tell m my niggas to pray for me
And I will keep it moving
This my letter from over seas
I am doing good
Now go tell my niggas to pray for me ah ah
And I will keepin moving
Is a Rasta thing ah
I don slack I don play my guitar
On some gangster shit bra
Time flies you don't stain my guitar ah
Pretty bad man Dey ah
Tell you no bad if you stand my face ah
The kind of life I live wide
Dem no go know me for road my friend ah
I'm not asking for too much oh
If it's too much you should let me know
I'm cool what ever I swear my bro
The street run man from the zongo yo
The fam part from my life isn't object
When that time surely comes you go know
But for now I'm outside with family
Twenty four seven manshe ru
This my letter from overseas
I am doing good
But tell 'em my Niggas to pray for me
And I will keeping moving
This my letter from overseas
I am doing good
Now go tell my Niggas to pray for me ah ah
And I will keeping moving ah ah