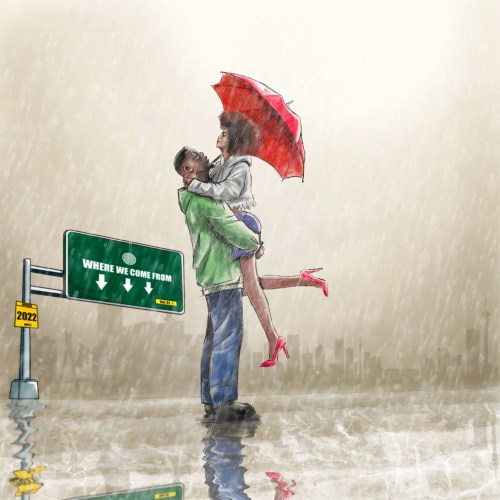 Wande Coal "Umbrella," a brand-new single from Empire Africa, was performed by Wande Coal.
The second track from EMPIRE's upcoming compilation album, "WhereWeComeFrom," which features some of the best African performers in the world, is titled "Umbrella."
The first was "Cough" ODO by Kizz Daniel, a song about his love for his little daughter. He claimed that he would adore spoiling her beyond belief and treating her to all the finer things in life. ODO's trademark dance, which has gained popularity on TikTok and propelled the song to No. 1 in more than 5 nations, is one of its most alluring features.
A mid-tempo love ballad, "Umbrella," is the name of the brand-new song. On it, WC, alias Black Diamond, sings with complete assurance and reassurance when appropriate about remaining in love with his wife forever.
"Wande coal Umbrella  Lyrics"
Iskaba
Yah dun know
Sak Pase
If you say make I stay for love oh
I go stay for love oh
I go dey for you oh ouu ohh
If you say make I stay for love oh
I go dey for love oh
I go taya for you oh ouu oh
I'm in your rain like umbrella (Umbrella)
You lock me down like Mandela (Mandela)
Girl you so sweet like vanilla (Vanilla)
Don't want to leave you no neva (No neva)
I'm in your rain like umbrella (Umbrella)
You lock me down like Mandela (Mandela)
Girl you so sweet like vanilla (Vanilla)
Don't want to leave you no neva (No neva)
And everytime I tell you say I love you girl, you think say I lie
Girl I no fit hurt your soul
Girl I no fit let you go
And I promise to tell the world say I'll be your guy
Girl I no fit let you go
Girl I no fit hurt my soul
If you say make I stay for love oh
I go stay for love oh
I dey for you oh ouu ohh
If you say make I stay for love oh
I go dey for love oh
I go taya for you oh ouu ohh
Umbrella  Lyrics
I'm in your rain like umbrella (Umbrella)
You lock me down like Mandela (Mandela)
Girl you so sweet like vanilla (Vanilla)
Don't want to leave you no neva (No neva)
I'm in your rain like umbrella (Umbrella)
You lock me down like Mandela (Mandela)
Girl you so sweet like vanilla (Vanilla)
Don't want to leave you no neva (No neva)
Ehh beh beh beh
O ni ma 10 le yeh yeh
My body dey ge ge
Tolulope mi ma sa lo
I go buy you this skirt skirt  I go buy you island leh
I go want you today ye
E no really matter ouu
If you say make I stay for love oh
I go stay for love oh
I go dey for you oh ouu ohh
If you say make I stay for love oh
I go dey for love oh
I go taya for you oh uhh ohh
Umbrella (Umbrella)
Mandela (Mandela)
Vanilla (Vanilla)
No neva (No neva)
Umbrella (Umbrella)
Mandela (Mandela)
Vanilla (Vanilla)
No neva (No neva)
Ohh no no no 3x
Stay for love
Ohh no no no 3x