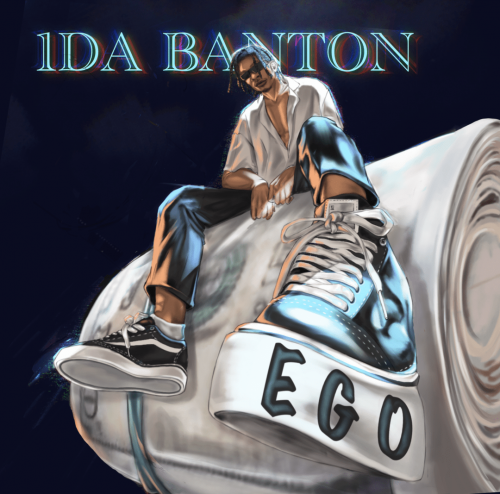 Basking in the popularity of his hit singles "Summer Love," "No Wahala," and "No Sleeping," 1da Banton makes another stride forward. This time, the talented singer impresses with a brand-new song and music video called "Ego."
The most recent album by 1da Banton, who boasts a resume full of flawless records, is titled "Ego." In 1da Bantonthe new song, he emphasizes his "lover boy" mantra, assuring his love interest that she will receive ego, which for "money," as payment for her commitment.
As stated in the lyrics, As long as say you go dey my side oo I go give you money, money, ego.
The skilled beatmaker Pimpzbeat produced "Ego," which is 1da Banton's third official song for 2022, a year that has been "totally successful" for him. The song is finished with Adasa Cookey's artistically designed music video.
With the release of this song, 1da Banton maintains the momentum and generates the required buzz for his upcoming project, which is now under development. He will undoubtedly have a lot to offer fans and
as time goes forward, released.
STREAM SONG HERE
1da Banton – Ego Lyrics
Intro
Ohh, yeah
Eh eyy eyy!!
Original 1da Banton
Yeah yeah
Beazy!
Pre-Chorus
Oh my darling (darling)
Ogini di (ogini di)
Shey na money oo
Me I get am plenty
E no dey fit for my bag so I put am in a Ghana must go (gbe gbe gbe)
Sho ma yodi
Show ability oo
Burss my brain make I spend a Milli oo
On you (on you o, on You oo)
Chorus
As long as say you go dey my side oo
I go give you money, money, ego
As long as say you go do me nice oo
I go dey shower you with money, money, ego
As long as say you go dey my side oo
I go dey give you money, money, ego
As long as say you go do me nice oo
I go dey shower you with money, money, ego
Post-Chorus
When you need a thing, call me (money, money, ego)
You need a million, baby call me
When you need a thing, call me (I say money, money, ego)
You need a million, baby call me
Verse
You know I be sure boy elemi 9+
If you gat me girl e be jackpot
Omo no dey doubt me, I believe in action ey ey ey ey
Wether na Monday, Tuesday, any other day
Girl I dey for you ooo
Wether na Monday, Tuesday, any other day
Girl I dey for you ooo
Pre-Chorus
Oh my darling (darling)
Ogini di (ogini di)
Shey na money oo
Me I get am plenty
E no dey fit for my bag so I put am in a Ghana must go (gbe gbe gbe)
Sho ma yodi
Show ability oo
Burst my brain make I spend a Milli oo
On you (On you o, On You oo)