Black Sherif announces the release of The Villain I Never Was, his debut album.
Ghanaian rapper Black Sherif debut album is a 14-track manifesto that builds on the gritty delivery and overcoming-self-sabotage mentality he presented on singles like "Kwaku The Traveller" and "Second Sermon." "The Villain I Never Was," which is centered on finding meaning in a challenging existence, reads like a compilation of Sherif's self-affirmations, which he utilizes to confront inner demons and advance his goals.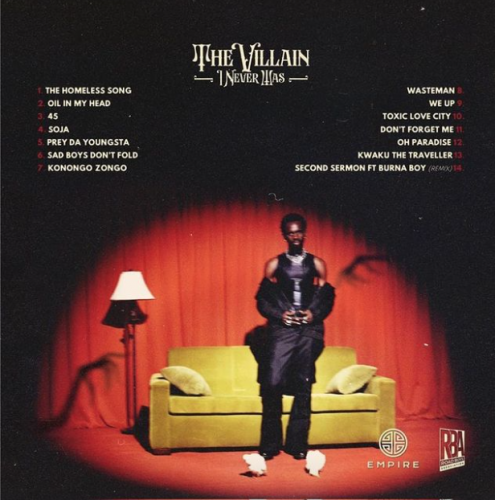 According to the rapper, "I feel like I am my own villain within," according to Apple Music. I've always been the bad guy in my own thinking, even outside, with things that happen to me and scenarios that I've experienced.
But when I sit down and talk to myself, I realize I was never the that bad guy. I'm not the villain they portray me to be or the one my mind makes me believe I am.
The record is therefore truly motivated by suffering, rage, tenacity, and self-actualization—being conscious and defending your position. The majority of the lyrics on the CD are instructions to my spirit, and they describe my life.
One of the songs "Soja" which speaks of a Soja should stay string on toes and dont let negativity get through ways. He should stand and defend himself at all time (He should be on guard).
Some of the Notable Lyrics from Soja Soja
My own anxiety
My inferiority what, what, what (ah) Ah, them all dey kill me Them all dey kill me And I don't feel okay (okay) My heart is beatin' so fast (so fast) So fast So fast (so fast, fast)
Oh, soja, soja, soja, soja
Stand and beat your chest There dey come, there dey come, there dey come No make them catch you off-guard Don't let them touch your skin, oh Oh, soja, soja, soja, soja Stand and beat your chest There dey come, there dey come, there dey come No make them catch you off-guard Don't let them touch your skin, oh