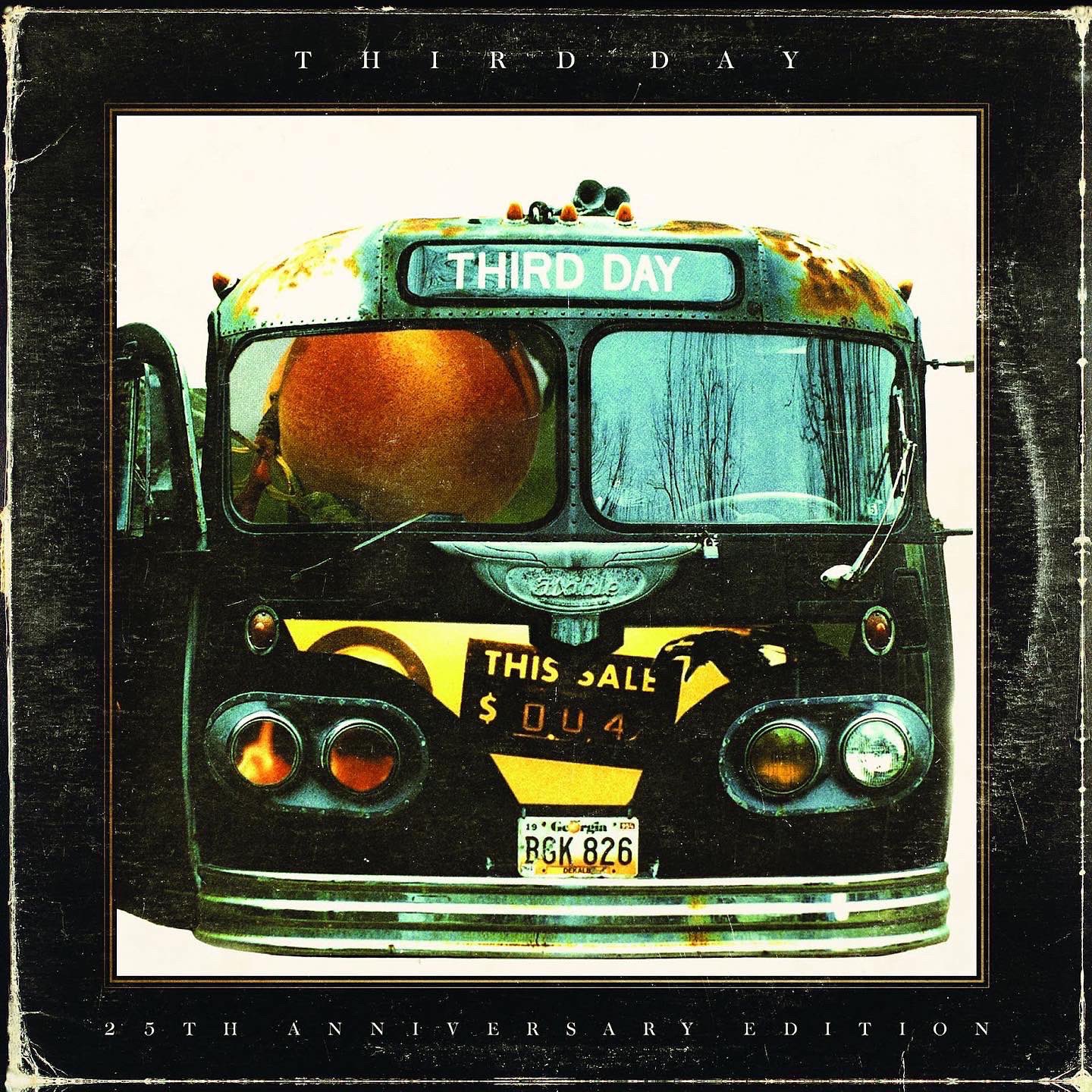 Third Day 25th Anniversary Edition, a multi-GRAMMY and multi-Platinum selling band, commemorates the 25th anniversary of the release of their self-titled debut album, affectionately known as the "bus record." Provident Label Group/Sony Legacy will reissue the band's debut album in celebration of this anniversary, which will include live tracks from the early Third Day years that were recorded at various locales. On October 21, Third Day 25th Anniversary will be available across all platforms.
Third Day's Mac Powell says, "Time flies when you're having fun." It's hard to think that the "bus album" is now more than 25 years old. I still receive requests for so many of that album's songs live, and I always enjoy listening to them again!
The group's self-titled debut album, which has an RIAA Gold certification, included the first No. 1 radio hits for the group, including "Forever," "Blackbird," and "Nothing at All." The band's extraordinary success, which would establish them as one of the greatest faith-based bands in history, was launched by this record. This anniversary release will be nostalgic for Third Day's fans since they said goodbye to the band on their sold-out 2018 Farewell Tour, which is another reason to look forward to this release.
Third Day 25th Anniversary Edition Track Listing
1. Nothing At All
2. Forever
3. Mama
4. Love Song
5. Blackbird
6. Thief
7. Consuming Fire
8. Did You Mean It
9. Holy Spirit
10 Livin' For Jesus
11. Take My Life
12. Praise Song
13. Nothing At All (Rock Radio Mix 1996)
14. Consuming Fire (Live in Louisville, KY 2004)
15. Forever (Live in St. Louis, MO 1998)
16. Did You Mean It/Mama (Live in Nashville, TN 1996)
17. Solid Rock (Live in Boca Raton, FL 1996)
18. Thief (Live in Denver, CO 2018 Farewell Tour)
19. Love Song (Live in St. Louis, MO 1998)
20. Blackbird (Live in St. Louis, MO 1998)
21. Nothing At All (2007 Mix)
22. Forever (2007 Mix)
23. Consuming Fire (2007 Mix)
24. Thief (2006 Studio Recording)
25. Take My Life (Live in Elmira, NY 2002)