There has been genocide killings of Innocents citizens protesting for their humanitarian rights as part of the country. This happened on the night of October 20th 2020 at the lekki toll gate where protesters were protesting for their rights.
Earlier the same day according to a Twitter report some men claiming to be  sent from the government had all cameras at the toll gate removed.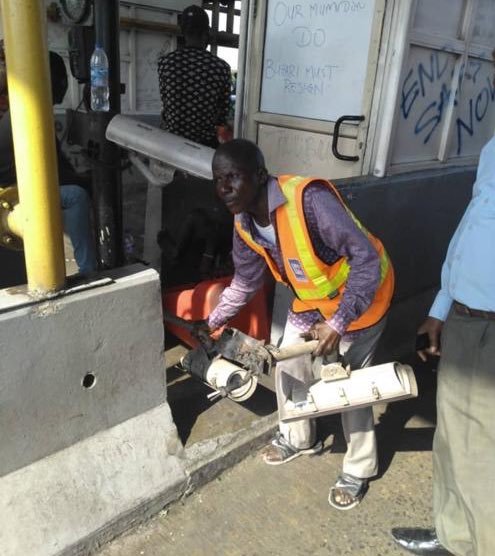 This is the hours before the lekki genocide occurred. This ultimately meant that this was a pre-planned operation to take out innocent citizens and protesters.
On same night of this incident a troop of some Nigerian army came in and the light of the toll gate were shout down and they started killing and shooting at innocent and unarmed protesters.
There's has been numerous tweets and evidences of the victims at the lekki toll gate. DJ Switch went live on the scene of the incidence to create awareness of the bloody massacre and killings of the innocent citizens. Many victims were rushed to the nearby hospitals for treatment.
This are some of the tweeted phots/videos from last night
Our parents' generation failed because all they had was their voice… no social media. Tweet and Post about #LekkiMassacre #LekkiGenocide till the World bring heartless and blood-thirsty Buhari, Osinbajo, Bola Tinubu and Sanwo-olu to justice. #unarmed Trump CCTV Beyonce pic.twitter.com/sDASHXdFIn

— Eghe Nimose (@eghenimose) October 21, 2020
WE WILL NEVER FORGET THE NOGHT OUR GOVERNMENT KILLED US FOR ASKING THEM NOT TO KILL US#LekkiMassacre #EndSARS #CrimesAgainstHumanity pic.twitter.com/19zab7E1o8

— Yung denzL (@MI_Abaga) October 21, 2020
Just some few moments ago, reports on constant parading of soldiers armed!
Lekki Toll right now is totally empty. They have cleared everyone off the road. Look at more soldiers armed arriving the toll gate.@theshadiroom

Osibanjo Beyonce #unarmed #LekkiMassacre Sanwo-Olu Shame #blacktuesday President Buhari pic.twitter.com/6whvapOeeO

— MK YOUNG (@mkyounng) October 21, 2020
SHOCKING VIDEO!!

Listen as police officer tells helpless #EndSARS protesters, "shebi una say END SARS, God go punish all of una".

Please RT aggressively once you hear it!!#EndSARS #LekkiMassacre #Lekkitollgate #LekkiGenocide #BlackTuesdayNigeria Beyonce • RCCG • Sanwo-Olu pic.twitter.com/P7gtS0Qlpc

— DeboMacaroni (@mrmacaronii__) October 21, 2020
Amongst all fingers pointing at this Officer Francis O. Omata for releasing the order on the shootings on the lekki genocide.
And also the ex. governor of lagos state Bola Tinubu has some queries to answer in the involvement of lekki genocides.
Breaking News….

Tinubu just landed in France with his private jet 30 minutes ago. You can run but you can't hide. Nigerians in France to hunt down Tinubu and bring him back to Lagos. He must face the consequences.#LekkiMassacre #LekkiGenocide pic.twitter.com/35TxpHQDFq

— Mubailu Atiku Abubakar Support Group (@MubailuG) October 21, 2020
Don't say a word, just RETWEET and show the world the face of the man behind the #LekkiGenocide

His name is Francis O. Omata.#EndSARS #LekkiMassacre #Lekkitollgate #LekkiGenocide #BlackTuesdayNigeria Beyonce • RCCG • Sanwo-Olu pic.twitter.com/le8lDxKnQp

— DeboMacaroni (@mrmacaronii__) October 21, 2020
To remind you this shootings are not just on the lekki premises but some other parts of lagos state like Igando in which there was a very massive brutality. You need to see this video.
THEY'RE STILL SHOOTING IN IGANDO!!! please RT and stay safe, don't go out, You're no journalist, enough bloodshed please!!! 12 already dead#LekkitollgateMassacre #LekkiGenocide #BlackTuesdayNigeria #unarmedGuys

Beyonce Anthony Joshua RCCG Forces CCTV Tinubu Nigerian Army Jide pic.twitter.com/cbwQCb8zXf

— The Duke 👑 (@Duke_CBE) October 21, 2020
They just shot someone now! God!!! #EndSARS pic.twitter.com/BwEEWNv9RB

— YEMINATOR🐒 (@i_ayanfee) October 21, 2020
The Federal Government as a whole has failed it's citizens in their responsibility to keep life and property save and there is a call for sanction and immediate action of all foreign bodies whose responsibility is to see the protection of humanitarian right. As things are now out of place in the country Nigeria