With the recent issues concerning Nigeria, on a National protest with #endSARS across the entire states of the country on the issue of Police Brutality, human injustice, killing of young youth and other issues such as, bad governance and so on.
A group of International hacktivist, early before now gave a 72 hour deadline to the Nigerian  Government. This was issued for the Nigerian Government to comply with the demands of is citizens and protesters.
But on Saturday morning, the named group of hacktivist tweeted that they are responsible to have taken down major websites of Top Government Organizations. This including the official website of the EFCC, INEC,CBN and recently the ARMY.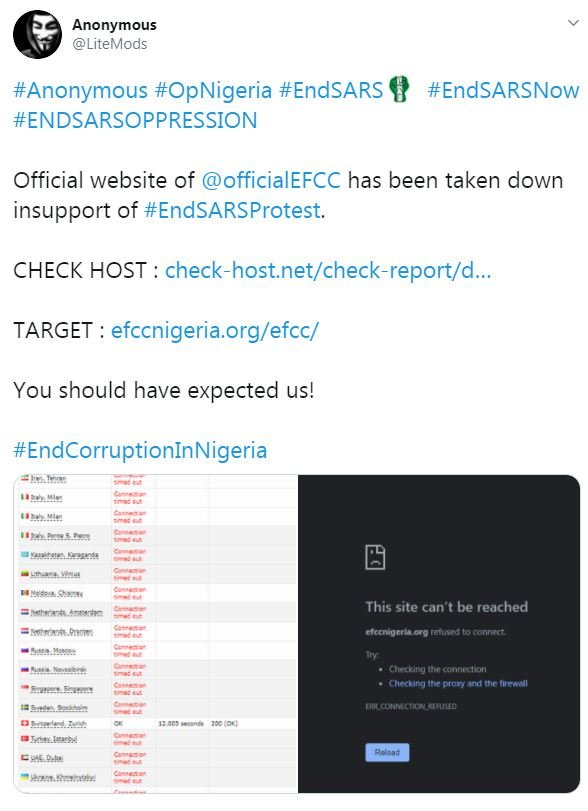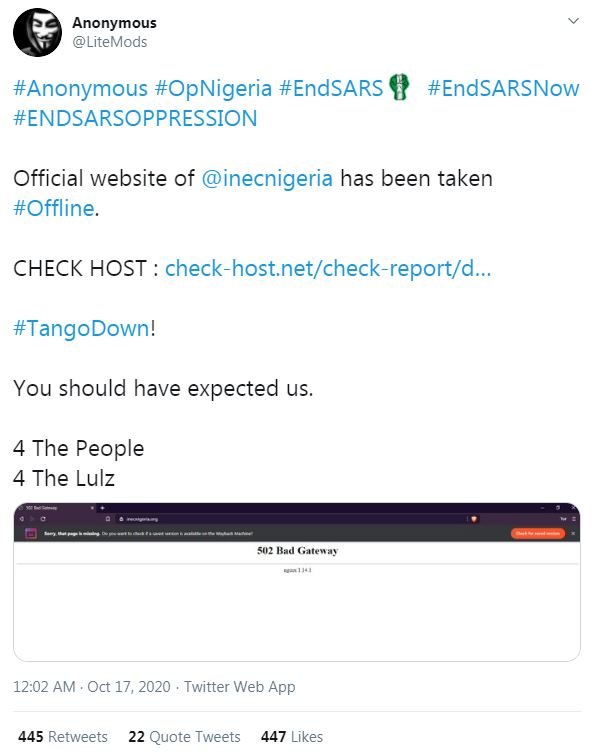 This is a serious issues going on through the federation, if the Nigerian Government are unable to meet up with demands as the named group continues their attacks. This is also, a warning to the Nigerian Organizations to improve their website securities.
Also lately, major of the Nigerian Government twitter accounts has also being taking down. This including the Twitter accounts of the NBC and others have been taken down recently.
We #Anonymous have taken over all the NG Official Twitter's Account to support #ENDPOLICEBRUTALITY.

WE'RE TOGETHER WITH NIGERIANS.

EXPECT UNEXPECTED#OpNigeria#Hacked @thecableng @4eyedmonk @MBuhari pic.twitter.com/8a28G49fFh

— nbcgovng (@nbcgovng) October 16, 2020
This is in support of the #EndSARS protest for the better Nigeria.
More News on Protest #EndSARS #EndpoliceBrutality